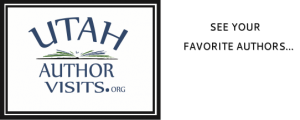 Utah Author Visits.org is making sure you always know which authors are in Utah and where and when you can meet them. Never miss your favorite author again!
Meetings with the authors is an opportunity to ask about what is unclear to you in the book, or to remember the moment you liked the most. It's a two-way communication that's a very valuable experience for readers (and for authors to hear feedback from fans), so if you want to learn about motivations and goals, or do a little research but find it hard to focus, find a colleagues who will help do my homework for me.
This site puts together a comprehensive and dynamic calendar to keep all Utah residents informed of when and where authors are meeting the public. No home addresses of authors, sorry; just public events.

The Utah Author Visits.org by Creative Libraries Utah, unless otherwise expressly stated, is licensed under a Creative Commons CC0 1.0 Universal License.