Please submit content to
Youth programming ipad app: Singing Fingers!
Singing Fingers About page: http://singingfingers.com/
Chocolate Wars: Beloit Public Library, WI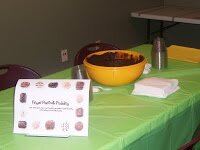 Kelly Jensen from the Beloit Public Library in Wisconsin generously shared her report on this program. Activities range from finger painting with chocolate to nose-racing chocolate whoppers. (which could also be done with marbles)
Click on the picture to see details for the program!
A big thank you to Kelly for sharing!

To the extent possible under law, Creative Libraries Utah has waived all copyright and related or neighboring rights to Tween Programs.