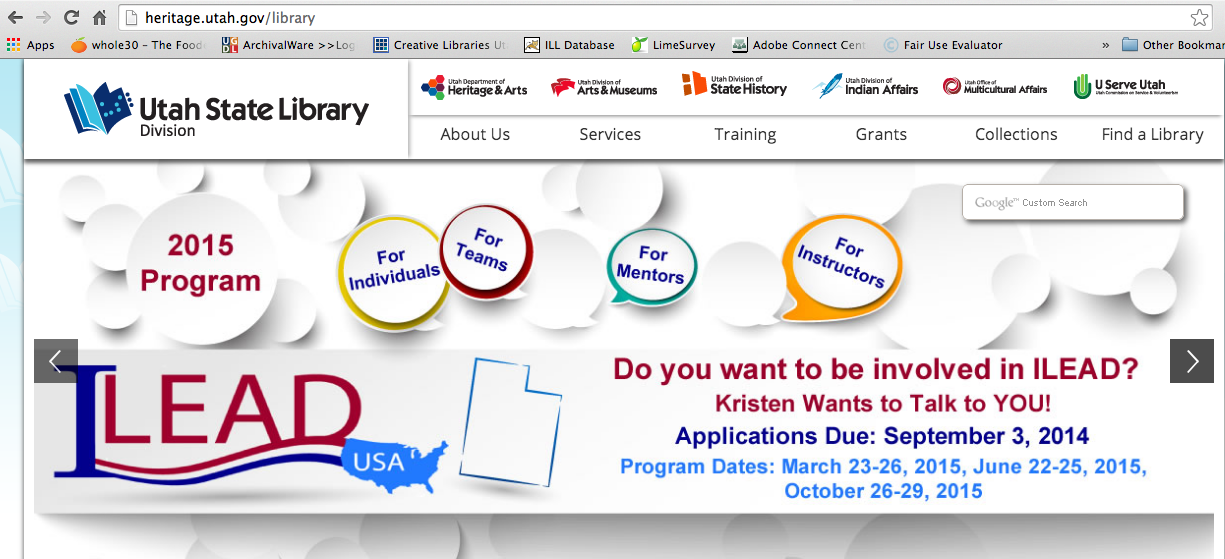 Applications: http://heritage.utah.gov/library/2015-ilead
Innovative Librarians Explore, Apply and Discover (ILEAD): The 21st Century Technology and Leadership Skills Institute for the States
The primary goal of ILEAD is to implement national programs that develop the knowledge, skills and abilities of library staff members who will apply participatory technology tools to understand and respond to users needs. ILEAD was designed to help library staff understand and respond to user needs through the application of participatory technology tools and the creation of an easy-to-replicate model program.
More information: http://heritage.utah.gov/library/ilead
__________________________________________________________________________________
2013 Creative Libraries Utah team application:
In the State of Utah, one hundred and twenty three public libraries serve and support an estimated population of 2,855,287 residents (2010 U.S. Census) and over 21,000,000 visitors (2012 Utah Office of Tourism).  The ratio of public libraries to residents averages to 2334 residents per library; however, when visitors are added into the equation the average increases 100-fold.  This additional population increase can strain Utah's public library's resources and services.  In Utah, the strain on library resources and services are not limited to the public libraries.  According to the American Library Association ('Improving Literacy Through School Libraries Utah', 2010), of the 920 public schools in Utah only seven hundred and sixty schools have a school library.  Unfortunately, out of the 760 public schools with libraries, 380 schools cannot staff these libraries with a school librarian either full or part-time.  A school librarian can assist in developing 21st Century Literacy Skills needed for success in our increasingly global economy by providing a 21st Century learning environment with print and electronic resources ('Improving Literacy through School Libraries Utah', 2010).  Consequently, without effective school library programs, Utah's students are at risk of graduating without the critical information literacy skills crucial in today's workforce.
The 'Creative Libraries Utah' ILEAD Team would like to construct a forum, modeled after Creative Commons, to provide a simple and standardized way for libraries across Utah to share and use library created content to better serve our constituents.  This project could assist in decreasing resource and time constraints in all Utah libraries.  Public, school, special, and academic libraries can increase their productivity and realize their full potential by pooling together library created content (i.e., reading lists, successful programming material, Spanish language translations, etc.).  Also, other organizations would have access to authoritative resources in which they could use to enhance their own services.  For example, schools who cannot afford to staff their libraries could have access to current reading lists and research guides created by librarians for a specific user group like middle school students.
The 'Creative Libraries Utah' ILEAD Team consists of three team members:  Dustin Fife, San Juan County Library Director; Kristen Stehel, Utah State Library Resource Sharing Coordinator, and Tegan Davis, Park City Library Youth and Spanish Services Librarian Manager.  Dustin Fife brings to the team an extensive knowledge of Creative Commons, web design, and the creative spark.  As a director of a rural multiple branch library system, he has experienced firsthand the constant strain on resources in public libraries while striving to provide the best service possible.  On a daily basis, Kristen Stehel handles libraries sharing resources through the interlibrary loan system.  She is knowledgeable and has direct contact with the majority of libraries in the State of Utah as the Resource Sharing Coordinator, which will be a key component in persuading libraries to expand resource sharing.  Tegan Davis is relatively new to the State of Utah; however, she brings the knowledge of copyright laws, Creative Commons, and the struggles both a multi branch and single branch library systems face to provide the best information and services without any barriers like language.

To the extent possible under law, Creative Libraries Utah has waived all copyright and related or neighboring rights to ILEAD USA Application.