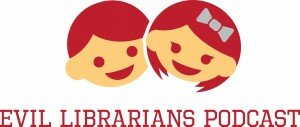 Tegan Davis returns from her hiatus to talk about the highs and lows of designing and publishing a new website for your library. Tegan gives great advice for all phases of such an important project and highlights some of the many pitfalls. We discuss project management generally and Dustin complains about bidding processes in government organizations.
Resources we discuss:
Let Freedom Ring…I mean…READ!

Most of us begin planning for September on or around September 5th. However, I urge you to begin thinking about September today. September 27 – October 3, 2015 is ALA's annual Banned Books Week. This is an annual celebration of the freedom to read supported by ALA's Office for Intellectual Freedom. Unfortunately, like most things in our life, good things only come after the paperwork is completed. So you want to have your Christmas party? Make sure and finish the year-end reports. I hear you want a raise? Let's go ahead and do your employee evaluation. You want to celebrate the freedom to read during Banned Books Week?!? Make sure and submit challenges to ALA!
"Since 1990, the ALA Office for Intellectual Freedom has maintained a confidential database on challenged materials. ALA collects information from two sources: media reports and reports submitted by individuals. All challenges are compiled into a database. Reports of challenges culled from media across the country are compiled in the bimonthly Newsletter on Intellectual Freedom; those reports are then compiled in the Banned Books Week Resource Guide. Challenges reported to the ALA by individuals are kept confidential and used for statistical purposes only. In these cases, ALA will release only the title of the book being challenged, the state, and the type of institution (school, public library). The name of the institution and its town will not be disclosed. A list of most frequently challenge books is compiled from these challenges for each annual Banned Books Week."
It is essential that individuals submit CHALLENGES to ALA so that accurate information can be maintained and preserved. As a public library director I faced formal and informal challenges on a weekly basis and reported almost none of them to ALA. I did not consider how important this information was to our institutions and society as a whole. This information helps articulate how and where intellectual freedom is being challenged and I missed several opportunities to share that information with broadly.
We need to contribute to a culture of open dialogue and education. How can we do that if we are not preserving and sharing our own experiences with our profession and society. Intellectual freedom is one of our most important ethics as librarians and it is important that we create reliable information for discussion. Please share your challenges, both formal and informal, with the Office for Intellectual Freedom.
Report a Challenge through ALA
Report a Challenge through the Utah Library Association.
By: Dustin Fife, Utah Valley University Outreach Librarian and ULA President-Elect