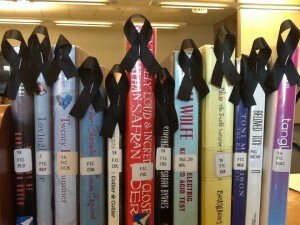 "For banned books week, we placed black ribbons on the banned / challenged books and left them shelved among the collection. Patrons were encouraged to browse through the library and try to find them. This worked semi-well, but the black blended in with a lot of books and didn't stand out as much as we hoped. Next year, we might try and do a different color to make them stand out more. Like red ribbon or caution tape.
Various events, played with game moments, encourage attention and interest in organized activities. Thus, libraries (or other institutions) are no longer perceived as boring and uninteresting places, custom book report to try to understand why it is necessary to rehabilitate libraries and attract young people to them.
Every March, we have an annual Leprechaun hunt for the kids. We hide as many as 20-30 different leprechauns throughout the library and when a patron finds a leprechaun, we give them a color book to write their name on, and all the books are taped to our wall and create a rainbow.
Last year, for Halloween, we placed the web decoration of haunted book reads, and also hid various Halloween creatures all around the library.
One of our best wall displays is our "I can't remember the title but…." and we have different groups such as "red cover" or "fairytale" or "like hunger games" or "main character was a boy" or "was made into a movie" and we printed off covers of books and taped them in that category. We did four or five different displays and everyone really loved looking at the display and getting new book ideas.
Right now, our display is the Clau Books Nominations. We have each of the categories up, and a picture of the cover along with a summary of the book. Then next to the book, we have the current poll count: green for yes, yellow for ok, and red for no. We have gotten more votes this year on these books than we have in the past.
For the adult reading program this year, we did a bingo game. Each patron had to do five different things on the bingo card, and then on the back give a review about each of the five things.
Every so often, we do a game night with the Youth Advisory Council and every one brings games, and we bring out the Wii and everyone comes and just has a good time. Lots of families join.
Finally, for the last one, we have done a "Write someone a letter day" and printed off our very own postcards and gave them out to patrons to send to someone for "Write a Love Letter Day."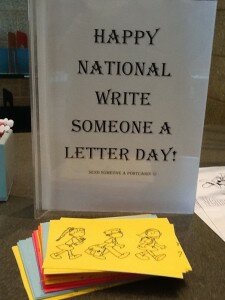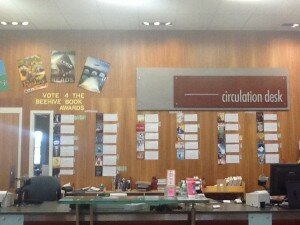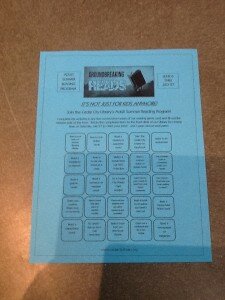 The Program Ideas and Decorating Images from Lauren Zachary of the Cedar City Library by Creative Libraries Utah, unless otherwise expressly stated, is licensed under a Creative Commons CC0 1.0 Universal License.