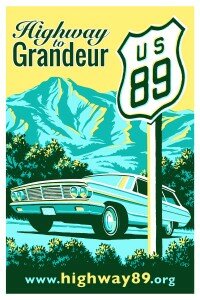 HIGHWAY 89.org
Here is a link to one of the best cultural and archival projects that I have seen in a long time. This archive is relevant to Utah culture and history, Western culture and history, and just about anyone who loves to get in a car and drive. This archive focuses on US Highway 89 that spanned from Canada to Mexico and cut right through the state of Utah. If you have any collections or information relevant to this collection please contact the people at Highway89.org. We are in the process of creating a permanent links page and Highway89.org will be included.
Copyright: The Highway 89 promotional flyer is not released under public domain. Copyright for Highway to Grandeur by John Clark is shared between John Clark and Utah State University.

Highway 89.org by Creative Libraries Utah, unless otherwise expressly stated, is licensed under a Creative Commons CC0 1.0 Universal License.