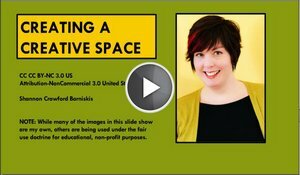 Creating conditions for an artistic space is a great initiative that involves the creation of a creative and the development of abilities, buy essay now to have an idea of why it is so useful to develop your skills and how to create a daily routine to spend your time productively. Learn about this exciting new Makerspaces lab in Lomira QuadGraphics Community Library, Wisconsin, where there is equipment to make digital art or physical objects. Residents can also convert formats: from VHS to DVD for example, or convert slides and photos to digital images. People can create print, audio, video, web design and other digital files that can help them with their business, school, hobbies, or help them to just have fun. Topics:
What inspired the library to obtain a media lab
List of equipment
Possible classes/training offered to the community
How the community has responded to the lab (attendance, project successes, etc.)
Host: Utah State Library
Audience: All library workers
Instructor: Shannon Barniskis
Service Population: 3,000

Build-A-Lab: Makerspaces in Lomira QuadGraphics, WI by Creative Libraries Utah, unless otherwise expressly stated, is licensed under a Creative Commons CC0 1.0 Universal License.