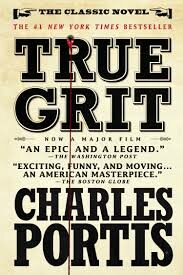 San Juan County Library in Southeastern Utah has announced their annual One County One Book program. This program is advertised as an opportunity for all residents to share in a literary experience. The program focuses on ages 14 and up and tries to select a book that will appeal to as many people as possible, while still giving them something interesting to discuss. This year's pick is True Grit by Charles Portis, a masterful novel that has inspired two movies. Checkout San Juan County Library's newspaper article that announces this year's selection.
True Grit / San Juan County Library's 2014 One County One Book selection.

ONE COUNTY ONE BOOK by Creative Libraries Utah, unless otherwise expressly stated, is licensed under a Creative Commons CC0 1.0 Universal License.