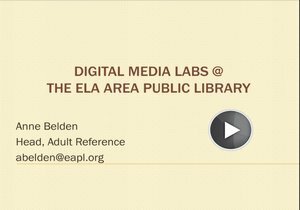 The Ela Area Public Library has two digital media labs in the same building. The purpose of the digital media labs is to provide Library patrons with a space where they may use various digital media technologies that support their educational, professional, and personal goals and endeavors.
Presentation slides: www.slideshare.net/abelden
Topics:
What inspired the library to obtain a media lab
List of equipment
Possible classes/training offered to the community
How the community has responded to the lab (attendance, project successes, etc.)
Audience: All library workers
Host: Utah State Library
Series: Build-a-Lab
Instructor: Anne Belden
Service Population: 33,000

Build-A-Lab: Media Labs in Ela Area, IL by Creative Libraries Utah, unless otherwise expressly stated, is licensed under a Creative Commons CC0 1.0 Universal License.